Written by David
As a knife enthusiast, I feel naked if I don't carry a pocket knife. If you are asking me when I am not carrying a pocket knife, I will probably just say flying and showering. Once you start buying just one pocket knife, it means that you step into a whole new world. Welcome to the EDC pocket knife jungle! The utility of an everyday pocket knife is something you can't imagine until you own one and start to carry it. Receiving a package that you have been waiting for so long and you have to fumble the drawers for more than 5 minutes to get the tools to open it? The knife owner won't have this trouble, and they just simply just reach into their pocket, grab the knife out, flip it open, and slice through the package. Mission completed. It just takes 5 seconds to finish everything.
The utility of the EDC pocket knives is obviously way more than this. Digging in the dirt, preparing for the meals, scraping off stickers, and whatever you can imagine. However, as a knife beginner, you may have a question. What if I can't find a pocket knife that sharp and that utility for everyday carry, it would be a waste of my time and money. The good news is that you won't have any questions like that after finishing this guideline.
The best pocket knives for everyday carry (EDC) with different requirements.
I'm a big fan of Vosteed because of its outstanding quality and honest price. I'm honored to be here to talk about EDC knives, and I would highly recommend that you can take a look at the Vosteed knives
The best budget knife: Vosteed Raccoon
The fidgety pocket Knife: Vosteed Thunderbird
The small pocket knife: Vosteed Mini Nightshade
The outdoor for tougher-use pocket knife: Vosteed Gator
How to select a pocket knife folder?
When you are looking for EDC knives, it will be best to choose a knife that can fit on your belt or in your pocket when closed. When you need to carry it for a long time, the pocket knife should be light enough to carry but the handle should fit for your palm.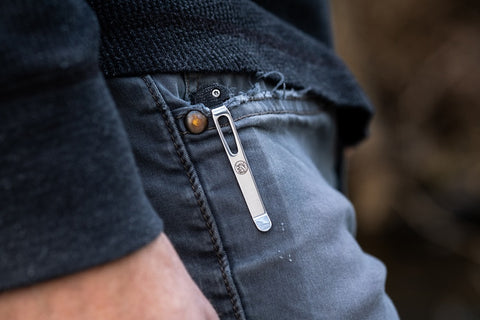 Photo by Nothingbutknives
From 2-3.5 inches blades would be the most common in the pocket knife catalog, and drop-point shape is very popular as this type of blade shape is fit for everyday use.
Material: 
There are stainless steel, carbon steel, and tool steel. The carbon steel is durable and holds on an edge well. However, it may require you to maintain it more as it's prone to corrosion. Stainless steel is less susceptible to corrosion, and if you would love to use your knife in the water, I would highly recommend stainless steel. 
There is also tool steel forming metals such as chromium, molybdenum, tungsten, and vanadium. With good edge retention, strong blade performance, and good corrosion resistance, this type of steel is usually applied for EDC knives. The popular steel is 14C28N, CPM S35VN, M390, and so on.
How we choose the EDC knives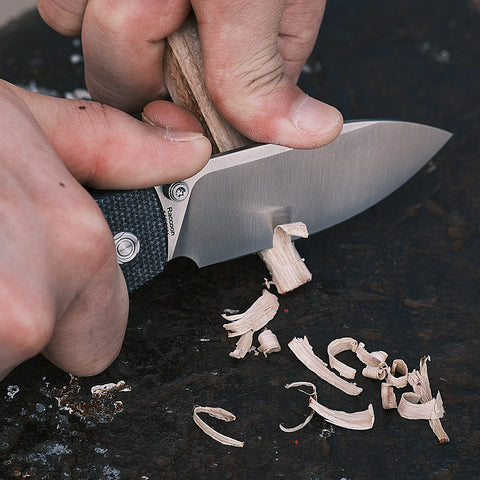 If you are looking for a pocket knife that can be used daily and is budget-friendly, the Vosteed Raccoon will be your choice. With a very usable 3.25" drop point blade the Raccoon with 14C28N (Sandvik steel) is plenty tough for outdoor jobs. For a beginner or an outdoor enthusiast, this outdoor knife is practical enough for office and outdoor use. 
The Vosteed Raccoon is super fit for the pocket, thanks to its weight (3.39 ounces) It allows you to carry it all day long without feeling heavy. The deep carry pocket clip works excellent angle at the end making the Vosteed Raccoon easily slide into a pocket.
It allows genuinely ambidextrous use and if you are the lefties, don't hesitate to get onboard to grab this EDC knife. 
$59 on Vosteed website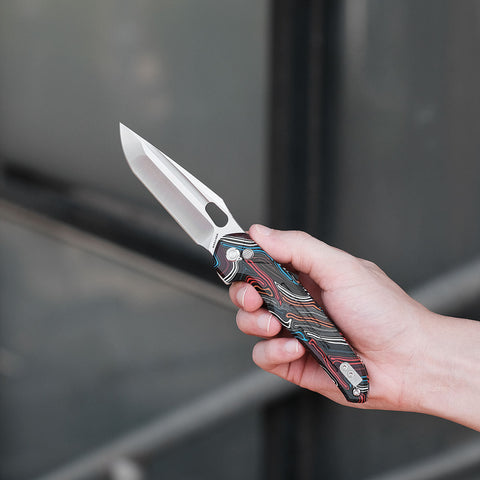 Vosteed Thunderbird is a super fidgety knife. If you love to try different deployments, you should grab this. It's a push-button lock pocket knife with a new mechanism. (patent pending) There are multiple ways to deploy for having more fun on your outdoor adventure.
The blade is S35VN steel and it is good at maintaining the razor sharpness and has excellent corrosion resistance.
$129 on Vosteed website
Here is the buying tip for beginners.
Should I buy an expensive pocket knife?
If you are a beginner and you don't have your own strong opinions about knives, I would recommend you start with a budget knife first. Watching more reviews on Youtube, and social media and comments on the product page would be useful. Trying out knives around $50-$60 will be a good start.
If you know exactly what you want, and realize that knife will be in your pocket every day, owning a knife that is $100-$500 will start to make sense.